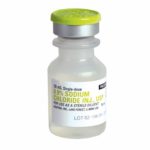 10ML Bacteriostatic Water w/ 0.9% Sodium Chloride For Injection
Description
10ML Hospira Sodium Chloride Water For Injection
Sodium Chloride 0.9% is a sterile, single dose nonpyrogenic solution packaged in a fliptop plastic vial. Each mL contains sodium chloride 9 mg. No preservatives, antimicrobial, bacteriostatic or buffers added. Chemically designed NaCl soluble in water. Used to dilute and dissolving drugs.
Nonpyrogenic
Preservative free
Single dose vial
No bacteriostatic added
Sodium Chloride 0.9% is packaged in a single 10 ml Flip-top single dose plastic vial.